Apr 14, 2014
Aussie health podcasters and Paleo enthusiasts Sarah Stewart, Steve Hayter, and Dr. Brett Hill are our special guest co-hosts in Episode 805 of "The Livin' La Vida Low-Carb Show."
We go all the way down to the land down under of Australia today with Sarah Stewart, Steve Hayter and Dr. Brett Hill from the "That Paleo Show" iTunes podcast guest hosting today's episode. And this episode is dedicated to the idea of doing 30-day challenges and how important they can be to get you motivated to get moving in your weight and health goals. A full transcript is listed below for your convenience, but you won't want to miss this incredible podcast from three of Jimmy's Aussie friends.
Join in on the "That Paleo Show" LLVLC 30 Day Challenge:

Listen to Sarah, Steve and Dr. Hill on the "That Paleo Show" podcast: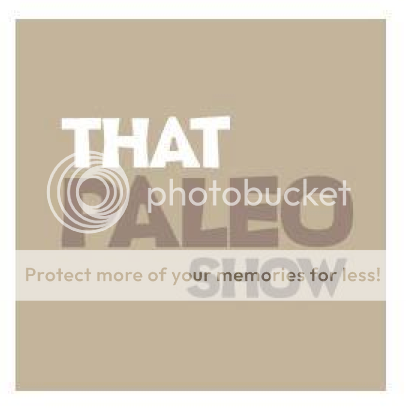 #1 BESTSELLING BLOOD SUGAR LOWERING SUPPLEMENT

NOTICE OF DISCLOSURE: http://cmp.ly/3
DARK CHOCOLATE ORANGE CHOCOPERFECTION BARS

NOTICE OF DISCLOSURE: http://cmp.ly/3
LINKS MENTIONED IN EPISODE 805
- SUPPORT OUR SPONSOR: Glycosolve with berberine and banaba leaf
- SUPPORT OUR SPONSOR: Get the brand new Dark Chocolate Orange ChocoPerfection Bars
- Sarah Stewart on Twitter
- Steve Hayter on Twitter
- Dr. Brett Hill on Twitter
- "That Paleo Show" iTunes Health podcast
- ThatPaleoShow.com
- "That Paleo Show" on Facebook
- "That Paleo Show" on Twitter
- "That Paleo Show" on Google+
- "That Paleo Show" on Instagram
TRANSCRIPT:
Hi Everyone, Welcome to another awesome episode of Jimmy Moore's Livin La Vida Low- Carb. I'm Sarah Stewart, I'm Steve Hayter, and I'm Dr. Brett Hill and we are the co-hosts of That Paleo Show.
We are super pumped to be your guest hosts on today's show and have put together a special episode with you all specifically in mind. We can't wait to get stuck in and share with you an amazing strategy that has brought us bucket loads of fun, pushed us to our limits and given us many personal insights. It's helped to keep us inspired and has also given us the kick in the pants that we all sometimes need when constantly striving to be the healthiest versions of ourselves possible. Today we are talking--30 DAY CHALLENGES!
We know the Livin La Vida Low-Carb tribe are a switched on crew and we wanted to bring you something new and fresh that you can apply to your own lives regardless of where you are in your journey of transitioning to being the best and most vibrant you possible.
No surprises here, we're human too and we know what it's like to experience a lack of motivation. We get how challenging and frustrating it is to be unsure of how to kick your health up to the next level and we know what it is like to feel lacking in confidence or certainty when it comes to trialing new approaches in health.
Today we are going to give you all the information you need to challenge yourselves in a structured and purposeful way that is easy to achieve and a powerful agent in arriving at your own conclusions for what works best for you.
Before we get to the, how and the what, Brett could you get the ball rolling by telling us why you think it's important for us to be challenged and what role this can play when it comes to our health?
Continue into following points:
• Why being challenged is important
• Why 30 days
- It takes about 30 days to form a habit long enough to make an impact, short enough to be attainable- bite size chunks
- Do it for 30 days, review results and incorporate positives as new habit
• What level of challenge is good i.e. types of challenges we have done (needs to be doable- Steve can talk about SMART Goals)
- Whole 30
- 30 days raw
- 30 days of no social networking
- 30 days of no swearing
- 30 days of meditation morning and night
- 30 days of push-ups
- 30 day squat challenge
- 30 day Arise and Shine detox, fruit and veggies with supplements and bentonite
- 30 days of cold showers
- 30 days of Bikram yoga
• Set yourself up for success. Letting the people you spend time with know what you are doing and more importantly the WHY behind it. Don't be afraid to tell them exactly what you need. I.e. I get up early for training and therefore need to go to bed by 10am each night to get my 7 hours sleep.
• When/if to stop a challenge (discuss that this is not a failure, knowing your limits is a smart thing)
• What we have learnt in the process from our challenges i.e. 30 days raw resulted in us incorporating more fresh veggies into our daily nutrition as well as upping the amount of raw food we consumed. Outcome was that we realized that even though we were eating pretty clean and sticking to Paleo principles we were lacking appropriate quantity of vegetables in our food and relying too much on sweet potato and broccoli
• The importance of reflecting on the challenge and working out what was good and how it can compliment your daily life--review, keep and discard
Here's the thing, the next 30 days are going to happen regardless, that's a fact. So why not take action and try something new for the next 30 days. You can make an impact by creating a new habit. You're in control so why not take positive steps that will improve the quality of your health and your life. That Paleo Show are here to help. We want to motivate and inspire you. We would like to invite you all to join our 30 day challenge group on our face book page "That Paleo Show" Here you will be able to participate in one or all of our 30 day challenges in a supportive and positive environment with people that genuinely want to see you succeed.
Steve are you happy to tell our listeners what our challenges will be?
30 days of gratitude
30 day squat challenge
Increase consumption of veggies daily and start each day with a glass of water for 30 days
We cannot wait for you all to join us and to start seeing notable changes in your daily lives and you're ready to take it to the next level Brett is going to tell you all about a special event coming up very shortly.
Well there it is thank you for letting us bring a little piece of Aussie wellness to you all today. We hope you all enjoyed the show as much as we did, make sure you tell us what you think and find out more about Paleo Café Cave Camp at www.thatpaleoshow.com Get involved by liking us on Facebook and following us on instagram, and we'll see you on our 30 day challenge face book group. Share your story and help to grow the Paleo tribe worldwide.